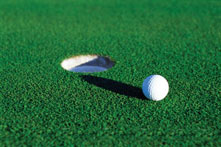 Your Golf or Spa Experience Starts Here...
This offer entitles the certificate holder to a choice of complimentary round of golf or a spa treatment at one of our many participating golf courses and spas located all over North America

Casino Spas
Casino spas offer vacationers a chance to try their hand at any number of exciting games of chance without leaving the premises. These high end properties tend to attract fun-seeking travelers who like both their excitement and their spa luxury in large doses.
Resort & Hotel Spas
Resort & Hotel Spas offer a wide variety of recreational activities such as golf, tennis, horseback riding, skiing, and water sports, and renewing spa experiences. Spa treatments and services serve as a complement to a hotel stay or vacation activities at a resort.
Orlando FL
Why do so many of the pros perfer Orlando? Well, there are 123 courses within a 45-minute drive of downtown, and many things to do off the course. Plus, the weather, is always great for outdoor activities, with an average annual temperature of 72.4 degrees. In short, it's a great place to work on your game - or forget about it altogether.
Day Spas
Day Spa visits offer a simple, flexible way to incorporate spa into your everyday life. Soothing massages, beautifying facials, and rejuvinating body wraps are just a few of the heavenly spa treatments that provide healing break from your everyday life.
Myrtle Beach, SC
The Myrtle Beach area is the Seaside Golf Capital of the World. Many come year after year to play Myrtle Beach golf. Wonder why? Nowhere else will you find more than 100 outstanding golf courses laid out over a spectacular low-country landscape.
Palm Springs, CA
They don't call Palm Springs the 'golf capital of the world' for nothing. Not only are there more than 100 courses in the greater Palm Springs area, but they are also among the world's most beautiful. In fact, if you watch golf tournaments on television, you've already seen many of them.